Have you ever imagined ten-fifteen years ago that you can book a taxi without waving your hand or you can get your favourite lip-smacking food at the comfort of your homes? But thanks to the on-demand apps, you can easily get these within a few swipes on your smartphone.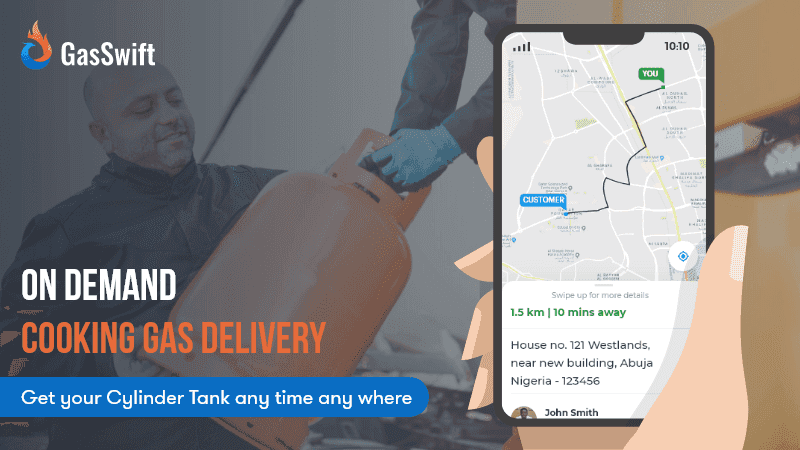 After seeing such great potential of on-demand apps, many businesses and startups have taken a plunge into this market and the cooking gas business is a part of those businesses. Gas delivery startups are looking to harness this nascent concept which has increased the demand to build an on-demand cooking gas delivery app.
Some of the countries have even succeeded in this segment. And if this model is a success in other regions that it can be a success for you too. Grab this attractive opportunity today before your competitors by automating your business operations with an on-demand app for delivering cooking gas.
But before that you need to do extensive market research to make a suitable marketing strategy. If you are puzzled about where to start then this blog can be the best way to start.
In this blog we will discuss with you the usage of cooking gas cylinders and show you the things to consider while developing an on-demand cooking gas delivery app. In addition to this, we will also show you the reasons why aspiring on-demand gas delivery startup businesses should make cooking gas cylinder delivery apps.
Use cases of cooking gas cylinders
Cooking gas is one of the most unique substances. Before looking into the various use cases of gas cylinders, let us understand its meaning first. Basically, gas cylinders are the pressure vessels used to store the gases beyond normal atmospheric pressure.
Mostly gas cylinders are used for fueling and manufacturing purposes, but there are some other examples where gas cylinders are used domestically too. From empowering vehicles to being used at homes as well as commercially, it has myriad uses. Let us discuss them in detail:
Residence
Cooking gas is a mixture of butane and propane which is mostly found in a gaseous state. It is stored in pressurized containers for business and domestic purposes. In homes, cooking gas is used to prepare food and boiling purposes.
Hotels and restaurants
Use of cooking gas in hotels is quite similar to that of its use in homes. But there is a slight difference here, and that is its quantity which is slightly more than the ones at home.
Similarly, restaurants need to start ordering additional supplies of cooking gas to cope up with the increasing customer demands. Furthermore, they do not have to worry about the cooking gas supply as they can order it anytime by making a few taps on their smartphones.
Industrial Usage
Propellants can develop accurate pressure within the container and expel the products in the vapour form along with formulating the aerosols. Gas cylinders have also been used as propellant in a majority of businesses such as Pharma, Chemical, Haircare and deodorant products, explosives, etc.
Camp
Who doesn't love camping? Camping in the forests is the best thing to refresh yourself. And as a gas delivery business it is also a great idea to make better revenues by offering your services to such users.
To make the most of this opportunity, you just need to start on-demand gas delivery services in the popular camping forests that are nearby to your city. For this you first have to find out the areas where your customers mostly went camping. After this, you need to set up a gas delivery facility near those regions.
In this way, you can get an additional opportunity to get better profits that will eventually expand your customer base.
After understanding the applications of gas cylinders, it's time to see the amazing features of a seamless on-demand system that is used to distribute cooking gas among households.
Exceptional features of cooking gas delivery solution
Features contribute a lot in a cooking gas home delivery app's success. The aspect is the features of on demand apps for the ease of the audience. These features will get you straight into the minds of your customers.
And that is why you need to have a good idea of the driver app, customer app, and the admin panel features of on-demand cooking gas delivery solution. Here is a detailed overview of it:
Centralised admin panel
Admin Panel is one of the most important facets of a cooking gas bottle delivery solution. It allows the admin to manage customers, vendors, drivers and the gas type. Also, it helps the admin to keep a tab on daily transactions. Let us look at the features of the admin panel one by one:
Dashboard
Admin dashboard is one of the key ingredients of an LPG cooking gas home delivery solution. It allows the admin to view the request, driver availability and the status of overall operations.
Apart from this, it allows the admin to maintain a detailed record of all its vendors. With a robust gas supply system dashboard, you can check the cooking gas distribution on a per vendor basis and can charge them accordingly.
Inventory Management
Now, it becomes easier for you to manage your inventories from anywhere via the admin panel. You can add or delete the products as per your requirements with this feature of an on-demand cooking gas delivery application.
Besides this, you can offer multiple cooking gas related accessories to your customers such as nozzle and cylinder pipe. Use the inventory management feature to keep the record of accessories as well.
Transaction History
Admin panel contains a detailed summary of each and every transaction that took place via a cooking gas delivery app. Apart from this, admins can also access a detailed transaction history that comprises valuable information such as pay dues and received payments.
Manage Orders
Now you can easily manage your daily, weekly and monthly orders from anywhere. You can check out all your pending, ongoing, cancelled and completed orders.
After looking at the admin panel features of a cooking gas delivery software, let us look at its other important part that is the driver app.
Highly accessible driver app
Drivers are one of the core aspects of an on-demand delivery service. That is why you need to build your driver app in such a way that your drivers can use it without any hassle.
Moreover, a driver app provides you with information that can help you to make better decisions to stay ahead in the competition. But the plus points of a driver app are not just limited to this some more features that you should consider at the time of on-demand cooking gas delivery app development:
Delivery Handling
With this feature, drivers can effortlessly schedule their deliveries in such a way that they can make more deliveries in minimal time. This feature will help the drivers to handle their deliveries better by letting them update about their status.
Manage availability
With the help of availability management features, drivers can update their availability status to the admin without any hassle. Along with this, the driver can inform the admin whether he is available for the delivery in that specific area or not.
In app navigation
The in-app navigation feature helps the drivers to select the feasible delivery route. With this feature, a driver can get the exact location of customers and can make seamless deliveries.
Earning history
A driver can check out everything about their past orders. From here, the driver can know all the necessary details regarding order such as date, time, address and the payment mode used for the order.
View customer ratings and reviews
Ratings and reviews feature allows the drivers to see the ratings and reviews given by the customers. These ratings and reviews will improve the driver's morale and encourage them to do their work in the best possible way.
So here are some features of a robust driver app. Now it's time to look at the remarkable features of the customer app.
Convenient customer app
With an innovative customer app, you can get all customer information at a single place that makes it easier for you to deliver the best in class cooking gas delivery service.
You can customize reports, get insights of critical metrics, and make seamless communication with customers by making an exclusive customer app. But the features of a customer app are not just limited to this, there are a few more too:
Instant ordering
In today's time customers mainly expect everything at a super fast speed and the same is the case with booking gas cylinders via mobile applications. A cooking gas delivery app lets the customer order gas cylinder without leaving the comfort of their homes.
Groundbreaking level indicator
Allow your customers to measure the gas level of their cylinder by themselves with the help of an on-demand cooking gas delivery solution. For this, you need to mount a gas level indicator device over the top of the gas cylinder that measures gas level and informs when it is about to finish.
Get notified immediately about leakage
Besides offering the best facilities to the customers, you should consider the safety standpoint. Hence the app integrates with a gas leak detection device mounted on the gas cylinder that measures gas leakage and informs when the leakage comes out of the cylinder.
Multiple Payment integration
Everyone wants to get better revenue and increased sales. But driving an ever faster growth is not a child's play. It requires constant research and technical innovation. And a payment gateway can be considered as one such innovation.
Offer multiple payment options to your clients such as mobile wallets, credit cards, debit cards, RFID, NFC, etc. Add a 'Cash On Delivery option for the customer who prefers to pay via cash.
Nearby vendor allotment
Let your customers choose the person from which they want to book their cooking gas delivery. Offer a great convenience to the customers by letting them choose the vendor from their nearby locations.
This will automatically build trust for your service as the customers are aware about where they get the cooking gas and from whom.
Rate and review the service
Today, it's hard to imagine the on-demand delivery scenario without ratings and reviews. Customers are leaving more ratings and reviews today compared to the previous times. This helps them feel more confident in their decision.
By using the ratings and reviews feature, customers can share what they feel about your cooking gas delivery services. With this feature, you can earn great customer loyalty in gas delivery business that eventually results in better profits.
What makes a cooking gas delivery solution stand apart?
An on-demand cooking gas delivery solution provides you an extra edge over your competitors by providing you with some amazing benefits. Let us give you a glimpse of the remarkable feature of an on-demand cooking gas delivery solution that makes it the best bet for your cooking gas delivery business:
Safety lets your business rise higher
Traditionally, it is a tough task for a cooking gas delivery operator to ensure quality and safety. The reason for this is that the customers have zero accessibility to the cooking gas filling process.
On the other hand, an on-demand cooking gas delivery app provides customers with a sheer transparency that keeps them stay with peace of mind regarding the delivery of cooking gas.
A loyal fan army
In the fierce competition, companies have to put a lot of effort in attracting the customers. When the customer loyalty programs are integrated into mobile solutions, the probability of repeat customers gets higher.
Offers, discounts, promo codes, referral codes, etc. are the best examples of customer loyalty ideas that you can implement into your business for the best results.
Payment becomes a breeze!
Cash on delivery is the only way of accepting payments in the traditional business. And the problems of cash exchange often frustrate the customers. That's where the on-demand solution comes to the rescue.
An on-demand solution for cooking gas delivery facilitates a multitude of payment options such as credit card, debit card, netbanking, mobile wallet, etc. Along with this, it offers digital invoicing that makes the customer happy.
Win your customers' hearts
In the age of instant gratification, businesses can easily meet customers' instant needs through an on-demand solution. This will surely increase the chances of winning more customers. Plus, the blend of attractive value-added services makes them a great fan of your product, and they never look further.
Conclusion
An on-demand solution for delivering cooking gas is an ultimate way for individuals worldwide to refill the gas cylinders in a pollution free way. This segment will surely prosper in the coming times because of the increasing need for eco-friendly products.
So, if you are looking to get the best out of this lucrative opportunity, then you need to look for a successful on-demand cooking gas delivery app development company that provides excellent development services.
So what are you waiting for ? Let's talk over a call today to build a successful on-demand cooking gas delivery solution for your business. Thank you for reading this blog. Keep following us to get wonderful entrepreneurial insights.