In this super-fast digital era, businesses are going digital and making the lives of people faster, easier and hassle-free. Today, people have very less time to complete their daily tasks. That is why they always look for instant solutions that can provide them with convenient doorstep deliveries.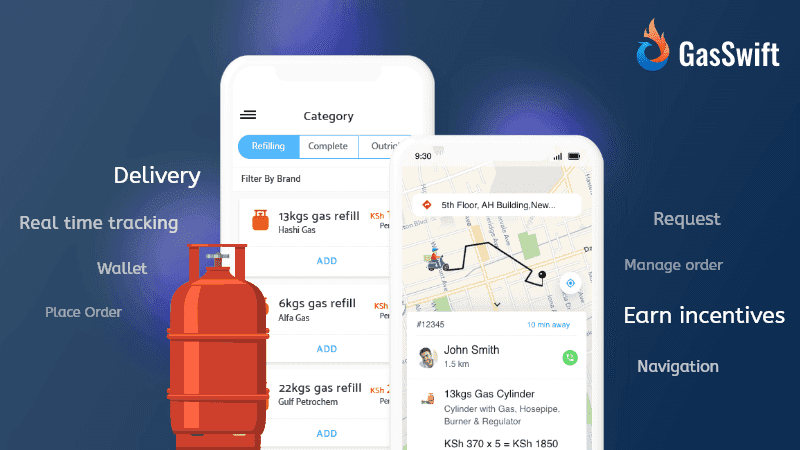 This is where on-demand delivery apps come into play. With just a simple tap on your smartphone, you can get everything you need like movie tickets, food, taxi, grocery and what not. This is the reason businesses are rushing towards on-demand delivery app development.
The on-demand delivery app model is one of the most profitable on-demand business ideas from the accessibility point of view as it offers multiple benefits to customers and businesses. So, if you are still delivering cooking gas traditionally then this is the time for you to make an advanced on-demand cooking gas delivery app to deliver cooking gas right on your customer's doorsteps.
However, on-demand cooking gas delivery app development is not a child's play, you need to spend a lot of time and cost in making it. But still you can build an on-demand cooking gas delivery app by hiring a software development team or you can hire remote developers.
But before you start with your on-demand cooking gas delivery app development, check out this blog to get a detailed overview of the features of an on-demand cooking delivery app.
Must have features of a cooking gas delivery app
Features can play the role of the game changer in the success of your on-demand cooking delivery service. That is why you need to take utmost care while integrating them into your on-demand cooking delivery app. Here are some essential cooking gas delivery app features you should look at.
Admin app features
Admin app is one of the most important aspects of a cooking delivery solution. IT enables the admins to manage the fuel type, customers, vendors and drivers. Apart from this, the admin app also helps the admin to keep a tab on daily transactions. Let us look at the features of admin app one by one:
Admin dashboard
Admin dashboard allows the owners to access essential business information. Admin should be able to view the request, availability of the driver and overall operation. It helps you to keep a record of the total number of the vendors on your dashboard.
With the help of this feature, you can check the cooking gas distribution on per vendor basis and can charge them accordingly. The admin's app will show you the total number of registered vendors on the platform.
Real Time Tracking
Real time tracking feature helps you to keep a tab on your deliveries by allowing you to track drivers in real time. This feature will enable you to get information about where your drivers are at any point of time.
Overall, the real time tracking feature can help you to re-assimilate your daily operations, boost customer experience, and eliminate unnecessary steps in making deliveries.
Performance analytics
A high-class online cooking gas delivery solution can also help you keep a tab on your business performance. With a performance analytics feature, you can track your incomes, expenses, number of completed deliveries, driver earnings and reviews and ratings of drivers.
Along with this, you can also access KPIs, time charts, forecasts, breakdowns, and dashboards.
Product Management
Now, it becomes easier for you to manage your products from anywhere via the admin app. Besides this, you can also add or delete your products as per requirement from this feature of an on-demand cooking gas delivery app.
Access to transaction details
The admin app contains a detailed summary of all the transactions carried out within the app. Besides this, admin app also provides you with a detailed report of transactions like received payments and pay dues. Apart from this, you can also check out the details of a particular order by filtering it.
Promo code management
A cooking gas delivery app enables you to offer attractive promo codes to your customers for every transaction they make. Give some cashback or discount to your customer when they use these promo codes. Your customers will surely like the promo code feature as it can help them save their money.
Driver app features
Drivers are one of the most important aspects of a cooking gas delivery business. That is why you need to design a driver app in such a way that your drivers can use it comfortably.
With a driver app, your drivers can get all the information like order details, pricing, and the end-user's address. But the features of driver app are not just limited to this, there are also some more features that can make your on-demand cooking gas delivery app tick:
In app navigation
The in-app navigation feature of a driver app can help your drivers to find the best route for deliveries. This feature will show the driver the exact location of customers.
Besides this, the in app navigation feature will also show the estimated time to the driver so that they can plan their route in such a way that they can make more deliveries in minimal time.
Availability management
This feature enables your drivers to update its availability status to the admin. Driver can inform the admin whether he is available for the delivery in that specific area or not.
Order History
Order history feature allows your drivers to check out all the details of the deliveries which they have made in the past. In order history, drivers can see the date, time, address and the payment mode used for the order.
Driver ratings
Here the drivers can see the ratings given to them by the customers. They can also see the customers' reviews here. These ratings and reviews will surely boost the morale of your drivers and also motivate them to improve their work.
Apart from this, if a customer sees the driver with a higher rating than it will create a good image of the driver in his mind.
Customer app features
What do your customers expect? Do they need super-fast cooking gas delivery? Or the security and privacy of their payments over the app? You will surely have these questions in your mind. But don't worry, we will answer them thoroughly by discussing the below features with you in detail:
Instant ordering
Cooking gas delivery apps allow the customers to order cooking gas instantly at the comfort of their homes. They just need to download the cooking gas delivery app over their smartphones. And they can get cooking gas delivered directly to their doorsteps within a few taps on their smartphones.
Live tracking of drivers
Real-time tracking feature is the crux of an on-demand cooking gas delivery app. With this feature, customers can get end-to-end information about their order right from requesting the cooking gas delivery to its final placement.
Brand and Size Selection
An on-demand cooking gas delivery app allows the customers to select the brand and size of cooking gas cylinders. The cooking gas delivery vendor should fulfil all the details regarding size and company.
Scheduled delivery
An on-demand cooking gas delivery solution can either allow the user an instant booking and delivery or can choose to schedule their gas delivery.
The schedule delivery feature helps the customer to choose the time and day of their delivery with other details about the gas required. Besides this, customers can choose from a list of all the nearby vendors to schedule their deliveries.
Multiple Payment modes
Mitigating the downtime risks or outages is itself a sufficient reason for the businesses to connect with multiple payment service providers. Still, the major reason to consider this approach goes beyond granting the convenience for customers to pay you.
Offer your clients with multiple payment options such as credit card, debit card, mobile wallets, RFID, NFC, etc. Don't forget to add a 'Cash On Delivery' option for the customer who wants to pay via cash. Ensure that you have a proper invoicing facility in place.
Having multiple payment processors boost your approval rates. It helps to avoid customers' frustration when they place an order and proceed to payment to find out there's no suitable payment option for them.
Bottom Line
On-demand cooking gas delivery will be in high demand in the future. Some innovative features will surely come out in the future as constant improvement is a part of growing technology. Thus, this is the right time to develop an advanced on-demand cooking gas delivery solution for your business.
If you want to make a top-notch on-demand gas delivery solution for your business, then you can connect with GasSwift at any time. GasSwift's expert development team will provide you with a top-notch on-demand cooking gas delivery solution that makes you stand apart in the market.
We would love to hear your thoughts and suggestions. So, free to share your views with us about our cooking gas delivery solution. Thank you for your time to read this blog.