In this digital era, we have different apps for everything. It seems that on-demand delivery apps have not left any sector. As per statista, the mobile app market is projected to generate a revenue of more than 935 billion US dollars (approx.). That is why the cooking gas delivery startups are now focusing on making an on-demand cooking gas delivery app.
If you are planning to create a robust cooking gas delivery solution, then here is a complete guide to help you with making a profitable on-demand gas delivery solution.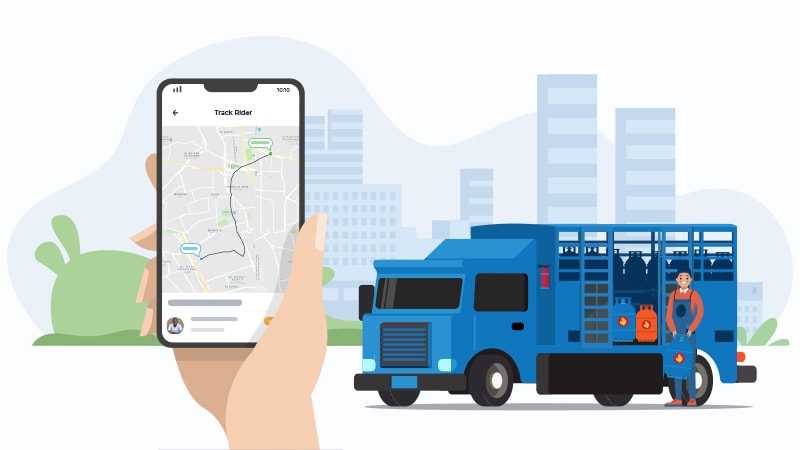 Who can use the on-demand cooking gas delivery solution?
Contaminated fuel, road blockages, long lines, fuel unavailability, etc., are the challenges faced by a gas delivery business. An on-demand cooking gas delivery solution helps you to beat these challenges. Let us look at its prime users :
Cooking gas providers
Cooking gas agencies and cooking gas startups can use the on-demand cooking gas delivery solution for providing a seamless service to their clients. It helps them to make their delivery process more accurate.
Cooking gas delivery aggregators
The on-demand cooking gas delivery app provides a great opportunity for the cooking gas delivery aggregators to set up their delivery business by using an Uber-like cooking gas delivery app that connects the gas delivery businesses with the customers.
How an on-demand gas delivery solution can digitize your business?
Are you still doing your gas delivery business in the same old way? Then switching to a robust on-demand gas delivery solution can skyrocket your profits. An on-demand cooking gas delivery app assists you to capture the demand based on the smart algorithm created by the expert developers and the planning of the solution in real-time.
That is why it is a successful business idea. Here are a few more advantages that an on-demand cooking gas delivery app can provide you with:
Convenience
An on-demand cooking gas delivery solution allows you to let your customers book their gas delivery at their convenience. Also, they can book their supplies in advance with this app.
Safety and quality
Buying gas through a cooking gas delivery solution is comparatively safer and better as you can get a cooking gas of rich quality. Companies filter gas with many chemical processes before its filling.
Multiple payment methods
While developing an on-demand cooking gas delivery app, payment gateway integration is an integral feature. You have to provide a safe and secure platform to your users for the safety of their payments.
You must provide multiple payment options such as Debit or Credit Card, Mobile wallets, etc. to your users. If a customer prefers to pay via the 'Cash On Delivery' method, the invoicing facility must be there.
Enhanced customer loyalty
You can integrate cashback, discount codes, referrals into your on-demand cooking gas delivery app to increase your customer loyalty. You can also offer some reward points to your customers which they can redeem in their next purchase.

Features for the admin app
You can build your app as a simple order placing and delivery app at the time of launch. You can add other features later on. The features of an admin app are as follows:
Track your vendors easily
An Uber-like cooking gas delivery app helps you to keep a record of the total number of the vendors on your dashboard.
With the help of this feature, you can check the gas distribution per vendor and charge them.
Performance analytics
Now you can easily keep a record of your business performance over your fingertips. An on-demand cooking gas delivery solution enables you to track the delivery time, the number of deliveries, ratings & reviews of drivers, canceled and delayed orders.
Manage your products
The admin app has been designed exclusively for the convenience of your drivers. Now you can easily manage your products from anywhere. You can add or delete your products as per your requirement.
Manage your transactions
You can easily manage its transaction as per credit or cash with an on-demand cooking gas delivery app. It also allows you to track any discrepancies in your transactions at any time.
Get accurate details of every order
The admin app has got a summary of all the transactions carried out within the app. You can view a detailed report of your transactions like received payments and pay dues.
Features for the driver app
The driver app is specially designed for the convenience of your drivers. Now your driver can get all the information like order details, restaurant details, and the address of your end-user.
Efficient handling of deliveries
It helps the drivers to efficiently handle their deliveries by allowing them to scroll through the list of their deliveries. Drivers can also know the different status of their deliveries, such as completed, scheduled, or pending.
Record of payments
The driver app lets your driver keep a record of its payments. He can track his bonuses, tips, remaining payments, etc., with it.
Route optimization
The route optimization feature helps your drivers to find the best possible route. So they can deal faster with the traffic and deliver the cylinders at great speed.
It allows your drivers to find an alternative route even if his main delivery route gets blocked.
Ratings and reviews
Here the driver can see the ratings and reviews given by the customers. Also, he can rate or review the users. It will also boost up its motivational level.
Management of availability status
This feature allows the driver to update the status of its availability to your customer. Your driver can inform the user whether he is available for the delivery in that particular area or not.
Features for the customer app
If you want to have your delivery solution a success, you need to be focus highly on this segment. Here we have covered its essential features for helping you to achieve your business goals :
Easy login process
The user has to enter details like first name, last name, email, password, and phone number to register on the app. After then, he will get a confirmation message. Then the user can log in to the app by using its credentials. The user can drop the pin of its location, or he can enter it, which mean that the user has scheduled for gas/fuel request. After this, his booking will get confirmed.
Customers can also log into the app by using social media plugins like Facebook, Instagram, Google, etc.
Easy order request
It allows the users to make an easy request for the gas cylinder by letting them check the availability of the gas in real-time and place their order.
Delivery Address
It allows users to save multiple addresses. Users can add or remove their addresses at any time. Also, they can set a location pin to add their address.
Multiple Payment Methods
An on-demand gas delivery solution lets the users offer multiple payment options like debit cards, credit cards, and cash on delivery, digital wallets, UPI, etc.
The customer is also entitled to get a payment receipt in case of the offline payment.
Order Summary
The customer can see the summary of their order after placing it. They can check here multiple information like order quantity, price, delivery charges, taxes, etc.
Promo Codes
Customers can now get promo codes for every transaction. Promo codes allow users to save their money by paying less. Also, they can get some cash back by applying it.
Real-time tracking
A robust customer app is incomplete without the real-time tracking feature. This feature enables the customer to get end-to-end information about its order right from requesting the delivery to its final placement.
Push Notifications
The Customer must remain informed about the happenings of his order. Push notifications inform them about new offers, new features added, and so on.
The pop-up messages can assist the users with knowing if their order may be canceled or delayed.
Call driver/admin
Users can contact anytime to the drivers after placing their order. If they are unable to get their deliveries in time, they would certainly make a call to the gas operator to know the current status of their deliveries.
Features for the vendor app
A robust vendor app helps you to manage your drivers and customers effortlessly. Here are a few features that have to be integrated into the vendor app:
Vendor Dashboard
For taking care of the efficiency of its drivers, the vendor can see the rundown of end clients, the mass requests from them, and the delivery experts.
The vendor can easily add or delete any driver at any time by using the vendor dashboard present in the on-demand gas delivery app.
Stock management
The vendor can get important stock information with an on-demand delivery solution. He can also track the availability of stock. Also, he can set a maximum limit for the stock so that he can get informed of purchasing extra stock.
Order management
An on-demand cooking gas delivery solution enables the vendors to manage his daily orders. It gives the information of pending, ongoing, and completed orders to the vendors on their fingertips.
Driver management
Now, the vendors can manage their delivery staff easily. They can take the record of attendance of the drivers. Also, they can know the exact location of their drivers in real-time so that they can assign their deliveries accordingly.
Real-time tracking
Real-time tracking is essential for knowing the total number of riders in the system. It helps the vendors to decide the payment of riders as per the deliveries completed by them. Vendors can add or remove the drivers from their database by using
this feature.
Transaction details
Vendors can effortlessly get all the details of their transactions like its price details, taxation details, date and time, name of the person, etc. by using an on-demand gas delivery solution.
How much does it cost for on-demand cooking gas delivery app development?
The cost of building an app depends on different factors its functionalities, data models, platform type, software development team, etc. You can select any platform from Android and iOS, or you can consider making it a cross-platform app. A single platform app would cost you somewhere between $15,000 US dollars to $55,000 US dollars while a cross-platform app will cost you around $65,000 US dollars.
It is advisable to launch the driver app and customer app with basic features initially. You can add some more advanced features as per the users' demand after some time.
If you are inexperienced with app development, you can hire a development team or you can outsource your development work. The cost will also depend on the features integrated into the app.
But, the actual cost of making an on-demand cooking gas delivery mobile app depends on the app development company. So, choosing a highly-skilled software development team can be a game-changer decision for you.
Signing off
The on-demand apps have taken over the global markets, but the on-demand cooking gas delivery segment is still untouched. The gas filling experience can sometimes become tiresome for your users. The emergence of an on-demand cooking gas delivery app will help you to provide them with greater convenience.
I hope you find this blog insightful. Keep following this space for more such insights.