The concept of on-demand which started from the idea of booking a taxi has redefined the global markets. However, the on-demand industry has got a new entrant in the form of fuel delivery.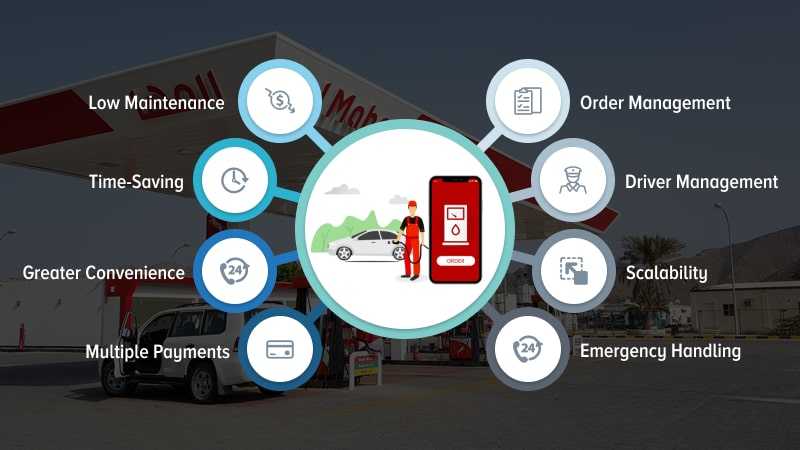 The on-demand delivery model for fuel delivery is a profitable idea from the accessibility point of view as it offers multiple benefits to both customers and fuel businesses. Now, you don't have to manage long lines of customers at your fuel stations. Instead, you can offer fuel at your customer's doorstep with the help of an on-demand fuel delivery app.
So building an on-demand fuel delivery app seems to be a good choice for your business. But, making an on-demand fuel delivery app is not that easy, you need to spend a lot of time and cost in making it. However, you can still develop a fuel delivery app by hiring a software development team or you can outsource your app development to remote developers.
In this blog, we will give you a detailed idea of an on-demand fuel delivery app, its elements and also we will show you how it can grow the profits of your fuel delivery business.
What is the fuel delivery app?
Earlier, you had to go to your local fuel station to get fuel for your vehicles. But this method was costly and time-consuming. So the fuel operators have started finding the convenient ways of delivering fuel. And they got the solution to their problem in the form of a fuel delivery app.
Fuel delivery app is an on-demand delivery solution that enables fuel delivery startups to make safe and hassle-free deliveries of fuel to the customers. For getting fuel deliveries, customers first have to register on the fuel delivery app. Then they have to enter their location and fuel requirements. After this, they have to complete their payment by choosing the payment mode.
After discussing the meaning and working of a fuel delivery app, let us look at its elements.

What are the components of the fuel delivery app?
The on-demand business model of fuel delivery can consist of four actors: admin, driver, vendor and customer. Thus, you can make different fuel delivery platforms for different actors. Now let us look in detail about them.
Admin Panel
Admin Panel contains a feature-rich panel that allows the fuel delivery company to manage their drivers and customers effortlessly. By using the admin panel, admins can add or remove the fuel type, customers, vendors and drivers. Also, they can keep track of their fuel sale with this feature.
Admin panel also enables you to keep a tab on your daily transactions by bifurcating them based on fuel types and payment modes. It also allows you to deploy cashback offers that can be used to attract new customers and retain the existing ones.
Driver app
Driver apps can help your drivers to know their earning history. Also, they can update their availability from offline to online from here. Along with this, drivers can accept or reject delivery by just clicking on the pop-up notification.
Vendor Panel
A fuel delivery app will also enable the vendors to manage daily business operations on their fingertips. Its vendor dashboard will show you the daily sales reports along with your earnings. You can filter this earning as per your driver's names and use this payment info to plan your budget.
Customer App
Nowadays, customers are expecting ease in ordering fuel for their vehicles as they do not prefer to travel a long distance to reach a fuel pump. So by using a customer app, they can comfortably get fuel for their vehicles without leaving the comfort of their homes. Also, customers can select the desired type and quantity of fuel while placing an order.
So now we are done with the actors of the fuel delivery app. Now let us move on to the reasons for making an on-demand app for your fuel delivery business.
Top benefits of making a fuel delivery app
Still, doing your fuel delivery business in the same traditional way? Then it is the high time for you to switch to a robust on-demand fuel delivery app that can help you to grow profits. A fuel delivery software helps you to capture the demand based on the smart algorithm created by the expert developers and the planning of the solution in real-time.
An app becomes a success only when it checks some important boxes for customers as well as for businesses. With an on-demand fuel delivery app, here's what you are offering:

Low maintenance
On-demand fuel delivery apps have provided a seamless experience to the customers. Also, these apps have helped the fuel delivery owners to build a large customer base. So it is worth it for you to invest in on-demand delivery app development.
Along with this, on-demand fuel delivery apps free the owners from all troubles of maintaining a physical fuel station. Due to this, the fuel delivery businesses can get good profits in minimal investment.
Time-saving
Time is a precious thing for any delivery business and the same can be said about the fuel delivery business. Now you can save your customers' time by making doorstep delivery of fuel. With an on-demand fuel delivery app, customers can easily order fuel by making a few taps over their smartphones.
Also, you can offer the scheduled delivery feature to your customers so that they can get their fuel at a convenient time.
Read More : Start a fuel delivery business at your location?
Greater convenience
Customer convenience is an important factor that determines the success of any business. No one likes to stand in the long lines to get fuel for the vehicles. Due to this, the fuel business operators may lose their customers.
But now the fuel delivery operators can efficiently cater to the increasing needs of their customers by making a fuel delivery app. Thus, by addressing your customer needs successfully, you can create a great consumer base for your business.
Multiple payments
By implementing a fuel delivery solution into your business, you can offer multiple payment modes to your customers such as credit cards, debit cards, or mobile wallets. You need to make a secure payment gateway for accepting these payment modes.
Also, you can offer a 'pay later' option into your app. Due to this, you can do more transactions with greater speed and accuracy.
Order management
Now you can easily manage your daily orders by building an on-demand delivery app for business. You can now view the status of your orders in real-time such as pending orders, ongoing orders, cancelled orders, completed orders, etc.
Apart from this, you can check assigned deliveries to your drivers by using an on-demand fuel delivery solution.
Driver Management
Driver management is a crucial part of an on-demand delivery business. And if you are providing fuel delivery services, then it becomes essential for you to manage your drivers carefully.
Making a fuel delivery is quite a risky thing that is why you need to recruit only those drivers who can handle the fuel vehicles safely. For this, you need to verify the driver's skills by taking a test or interview.
Apart from this, you can efficiently track the status of your drivers by using real-time tracking features. Also, you can plan your fuel deliveries in a better way by using an on-demand fuel delivery solution.
Scalability
Before we talk about how scalable a fuel delivery app is, let us first understand its meaning. Scalability is the ability of an app to handle the increasing number of users. Also, it caters the ability of your developer to maintain the app.
Initially, you can launch your fuel delivery app with basic features. Then you can add more features later on. The benefit of the scalability is that you can add the required features as per the growth of your business.
Emergency Handling
What if your vehicle gets out of fuel and there are no fuel stations nearby? A fuel delivery solution comes to your rescue in such a situation. You just need to pull out your smartphones and place an order for your fuel via a fuel delivery app.
Conclusion
On-demand fuel delivery apps are gradually becoming popular across the globe. And in the upcoming years, we will surely witness a hike in the number of fuel delivery market players. So this is the right time for you to invest in an on-demand fuel delivery solution for growing your existing business.
You can take the help of a software development team or remote developers for making a profitable fuel delivery app for your business. From developing an app to estimating its cost, everything is easily accessible to you. So what are you waiting for? Just hire the best app developers to make your on-demand fuel delivery app dream come true.
I hope you liked this blog. Feel free to reach us if you still have any questions in mind or if you want to know more. Thank you so much for reading this blog.