This title is a striking question that always comes to a person's mind first while making an on-demand fuel delivery app for his fuel delivery business. The cost of making an app depends on multiple factors like functionality, size, type, number of features, vendor location, QA, complexity, etc.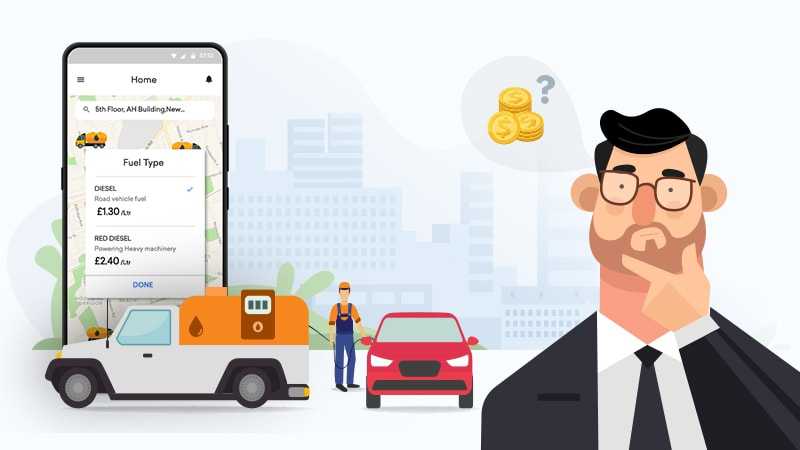 Many people find it difficult to get out to fill the fuel in their vehicles. By integrating an effective on-demand fuel delivery solution into your business, you can provide fuel to these people right at their doorsteps. It can help them to save their time and help them to get their fuel at their convenience.
If you are looking to develop a profitable on-demand fuel delivery app, then this is the right place for you to start with your app development. In this blog, we will show you how it will cost you to make a Filled-like on-demand fuel delivery app. Also, we will help you to guide you on how to launch your app successfully in the app markets.
Which type of app is best for you?
Before you start talking with an app development company about developing a feature-rich on-demand fuel delivery app for your business, you need to look out at their types and need to decide which kind of app will be suitable for you. Here we will show you the two major types of apps with their benefits so that you can easily make the right decision:
Native apps
Native apps is an application built in a specific programming language for iOS or Android. Native apps for iOS are created in Swift or Objective-C. For windows, it will use C language while the Android apps are written in Javascript. Here are some benefits of Native apps:
Better user experience
Native apps use hardware tools to give a great experience to their users. They provide high-quality visuals to its users by maintaining aspect ratio. The orientation and resolution are also better in these apps. These features of a Native app will help you to fetch a larger customer base for your business.
Fewer bugs
It is a tough task for a developer to maintain two different apps in a single codebase rather than maintaining two apps in two different codebases. With Native app development, you can allow your users to access new features after updating their apps. The app bugs can be fixed easily with every newer version. In this way, the number of bugs can be decreased.
More interactive
Native apps are specifically designed for an operating system. Thus, they will follow the guidelines to give an enhanced experience to the app users. Uniformity can be maintained in the app flow as there are specified UI standards. This allows users to operate an app easily.

Hybrid apps
Hybrid apps are a unique blend of both Native and web apps. These apps are created using multiple web technologies like HTML, CSS, and Javascript. Hybrid apps operate from a native application and an embedded browser. iOS uses WKWebview to display the app, while Android uses the Webview for doing the same. Let us look at its various types with their benefits
React Native
Developed in 2015, React Native is a programming framework that allows the developers to make robust and scalable iOS and Android apps by using Javascript. It saves the time of app developers by allowing them to reuse the same code again for each operating system. React Native apps are faster because they are specially optimized for mobile devices.
Flutter
Flutter is an open-source cross-platform tool that is used to create iOS and Android apps from the same code base. Thus, you can easily save your time and resources by using a Flutter app.
These apps are made from a simple programming language called 'Dart'. Darts uses the native codes, so there is no need to use OEM widgets as Flutter has its own set of widgets for Android and iOS platforms. These widgets can be customized easily as per the user's needs.
Native app development can cost you somewhere between $1,00,000 to $5,00,000, on the other hand, a hybrid app can cost you somewhere between $5500 to 1,05,000.
Why do you need to choose a reputed software development company for your app development?
If you are looking to develop a profitable fuel delivery app to boost your fuel delivery business sales, then you have two options for doing that. The first one is to hire software development team or you can outsource your app development work to freelance developers. Hiring a software development team can be better for you if you think from the reliability perspective.
A software development team consists of highly skilled developers who can develop a robust on-demand fuel delivery app as per your business requirements. Also, you will get important details like hourly rates, company portfolio, estimated date of finishing the project before paying for your app development. Thus, greater transparency will be maintained between you and your team while doing app development work.
If you are looking to make a feature-rich on-demand fuel delivery app for your business, then outsourcing your app development work to efficient software developers can be a great choice for you. By outsourcing your app development work, you can get a huge talent pool with a high level of flexibility.
Read More: How to start a fuel delivery business at your location?
Which are the factors affecting app development cost
Your software development team will not give you the development costs on the spot. They will first study your app requirements and then they will send you an estimate of development cost and the time needed to develop your app. But still, some other factors can affect your fuel delivery app development cost. Here they are
Functionality
The functionality of your app is a major factor in determining the development cost for your project. You have to clarify your purpose of making an app to your software development company or freelancers. You can choose your app type from on-demand, social, eCommerce, or healthcare.
Complexity
The complexity of features that are integrated into your app also affects your development costs. Factors like screens, buttons, logic matter a lot.
Developers need to use the code from scratch depending on the complexity of the application. Thus, you need to think about the features carefully as they can affect your app development costs.
Backend infrastructure
Backend is a structure that helps your developers to provide data exchange between the app and the database. Its analytics will help you to track your user activity. The costs of backend structure vary according to the number of parameters that you are going to track.
Platforms
Choosing the right platform for your app is a crucial part of the app development process. You need to consider factors like market share, app fragmentation, size, prevalence, etc. while building an app for your business. Different programming languages and multiple SDKs also affect the development cost.
Also, you need to decide whether you want your app to work on just one platform or whether you want to make it a cross-platform app. If you want to create a hybrid app then you need to hire an app development team.
Location of the development team
The location of your software development team is another important factor affecting your app development. Usually, the app development costs can range somewhere between $15 to $255 per hour. The companies of the US and Canada can charge you an hourly rate of $55 to $255.
If you hire Australian developers for developing your app, they can charge you somewhere between $50 to $155 for an hour. If you want to go a bit lower, then you can hire developers from Europe or the UK who can charge you between $40 to $175.

Hours of developing an on-demand fuel delivery app
The cost of developing an on-demand fuel delivery app depends on the time it takes in its development. Features and functionalities that are going to be integrated into a fuel delivery app are the major factors that will affect the time of its development. Here is a break-up of the development time as per the components of an app: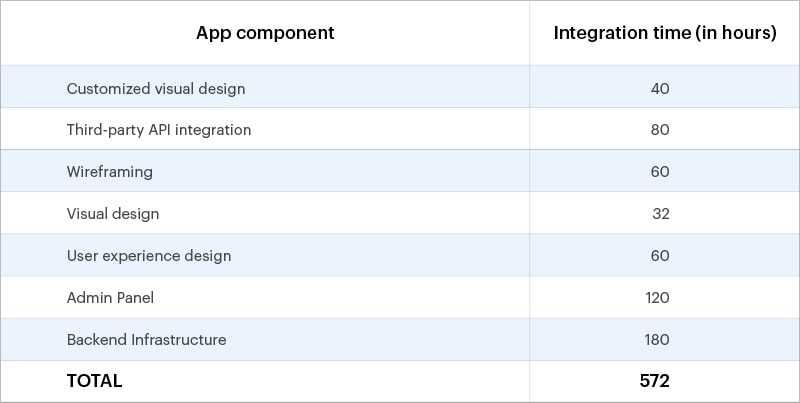 After looking at this table, you have understood that developing an on-demand fuel delivery app is not an easy task. You need a huge software development team to work for such a long period. Excellent team management is needed for this purpose.
In India, the cost of developing an app will cost you somewhere around $25 per hour. Thus, as per the above table, Indian developers can cost you $14,300.
Wrapping Up
Your task has not finished by just making an app for your business. You need to maintain it properly if you want to make it a success. You need to provide timely app updates to your users. These app updates may increase your app development costs.
The app development process will get finished only after the successful launch of your app in the playstores. You need to make sure that it is fully equipped with essential features and support systems. Because missing a single feature can cost you a lot.
So that's all from our side. I hope you liked this. Keep reading this space for more such wonderful insights.